Sheep and wool producers in New South Wales now have access to a new on the ground resource to help them implement practical and effective biosecurity measures on their farms, following the appointment of a second specialist extension resource at Animal Health Australia (AHA).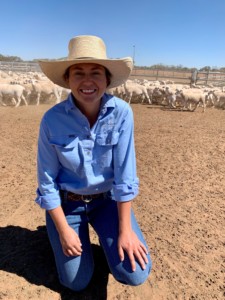 Dr Sophie Hemley joins AHA from a career as a District Veterinarian with the NSW Local Land Service (LLS), most recently with the Riverina LLS based in Griffith.
Dr Hemley brings to AHA a wealth of knowledge of the sheep industry in NSW, having grown up on a mixed wool and cropping property near Griffith before studying her veterinary degree at Charles Sturt University in Wagga Wagga. She is currently based at Ivanhoe in the state's west.
The appointment of Dr Hemley is the second under the National Sheep Industry Biosecurity Strategy 2019-2024 (NSIBS), which was developed by Sheep Producers Australia (SPA) and WoolProducers Australia (WoolProducers) to secure the future of the sheep and wool industries.
"We're here to help and encourage producers to take ownership of their on-farm biosecurity practices so that they can protect their farms against diseases, pests and weeds, ultimately boosting their productivity and profitability," Dr Hemley explained.
"Every landholder and land manager has a responsibility to help manage and reduce biosecurity risks on their property; if everyone does this, we can both make a difference on farm and safeguard the value of our industry as a whole."
Dr Hemley will be working closely with counterparts within the NSW Government and local and regional farming groups to reach and support producers looking to implement biosecurity measures on their farms.
AHA's Executive Manager, Biosecurity and Animal Health Systems, Dr Simon Humphrys, is pleased to see the expansion of NSIBS into a second state which will build on successful outcomes in South Australia in collaboration with Livestock SA and PIRSA.
"NSIBS is a national initiative by our peak industry bodies which aims to make sheep industry biosecurity planning and implementation regionally tailored, effective and, where it makes sense, consistent across Australia," said Dr Humphrys.
"AHA is proud to be a part of this initiative and I look forward to working with Dr Hemley to see the Strategy's objectives realised on properties across NSW."
Both SPA and WoolProducers welcomed Dr Hemley's appointment.
"It's great to see the development of NSIBS leading to extension boots on the ground. SPA is delighted to have Sophie on board to assist producers improve their biosecurity and protect the sheep sector from disease," said SPA CEO Stephen Crisp.
"It's great to have Sophie on board to support the delivery of NSIBS, I have no doubt that Sophie's previous in-field experience and grower communication skills will serve her well in this role," said WoolProducers General Manager, Adam Dawes.
Dr Hemley joins Dr Emily Buddle, based in South Australia, as part of the AHA team focused on the delivery of NSIBS extension activities, which commenced their rollout in April 2020.
While both Dr Hemley and Dr Buddle will be building local networks and working with industry, producers and their supply chains within their respective states, they will also be working together to support national actions under the NSIBS banner. Find out more via www.animalhealthaustralia.com.au/nsibs.